Food
Beef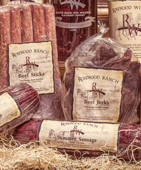 All-natural, grass-fed beef raised on the Kansas Prairie at Rosewood Ranch is used to create beef products, enhanced with our unique Rosewood Creations recipes.
We offer beef sticks and summer sausage in these flavors: Original, Cheddar, Cheddar and Jalapeno.
Cowboy Candy
This sweet heat treat in a jar is addictive to any avid spice-loving connoisseur. This tangy and savory sweet syrup can be blended with cream cheese, or eat it plain with crackers, chips or bread. Select from Green Mild and Red Hot. Made with all-natural Jalapeños, grown by Rosewood Greenhouse and Garden. Available in 7 oz. Jars
Crackers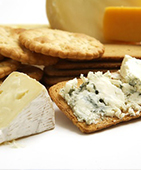 Rosewood Crackers aren't your average crackers. They are flavorful and filling. Eat them as they are, or sweeten them with Rosewood Jellies and Cowboy Candies.
We have Cheddar Jalapeno and Parmesan Thyme in 2 sizes a 12 count and a 26 count.
Flap-Jack Mix
Flap-Jack Mix flavors: Choose from Apple-Jack Cinnamon, Blueberry Bonnie, Cowpoke Corn Bread and Strawberry Buckaroo
Available in 10oz pkg or 2 cups
Try with our Fresh Syrups made with real fruit.
Gus's Trail Treats
Marshmallows: Vanilla Clouds, Peppermint Clouds
Campfire S'mores, Truffles, Toffee
Biscotti: Orginal, Almond - Comes in 2 or 4 pk
Honey Roasted Peanuts, Honey Roasted Almonds in 8 oz jars
KettleCorn
Cinnamon Bears, Black Licorice, Red Licorice
Old Fashioned Stick Candy: Cherry, Black Licorice, Butterscotch
Farm House Candy - Pink Pig Gummies
Jack Rabbit Relish
Savory-sweet! This delicious, tangy relish of green tomatoes, onions, bell peppers, and spices is perfect with sandwiches, burgers, and lots of other entrees. Mix it with mayonnaise for a tasty tarter sauce or create your own special sald dressings.
Sold in pint size jars. Comes in Mild or Hot.
Jellies & Spreads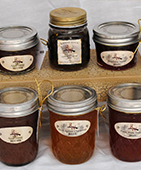 Taste the sweet and natural goodness of Rosewood Creations produce, wine, and honey in Rosewood Jellies. The jellies are made with fruit grown at our Ranch orchard, with honey harvested from our Bee Farm, and with Jalapeños grown in our Greenhouse and Garden. Some of our jellies even resemble the taste of our sweet wines at Rosewood Winery.
Select from choices of Wine Jellies in 4 oz. and 8 oz. jars: Blackberry Cabernet, Black Cherry Pinot Noir, Exotic Fruits Zinfandel, Peach Apricot Chardonnay, Strawberry White Merlot
Cranberry Collection in 4 oz. and 8 oz. jars: Cranberry Spread, Cranberry Jalapeño, Spread, Cranberry Jalapeño, Jelly
Honey Apple Butter, Lemon Honey Jelly
Kanza Sand Hill Plum Jelly in 8 and 16 oz. jars
Pumpkin Butter in 4 oz. and 8 oz. (seasonal)
Kanza Corn
Corn, bell pepper, onion and a little kick, 16 oz.
Pure Raw Honey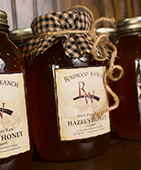 Taste the natural goodness of Hazel's Honey, harvested from our bee farm at Rosewood Ranch. Not only do you taste the sweetness and goodness of locally produced honey in every spoonful, but you receive the benefits of immune-boosting nutrients, along with antibacterial and antioxidant properties.
Choose from 8 oz. Jar, 1 Pound, 1 quart or a pint.
Honey Powder and Prairie Rock Sugar 6 oz. jar.
Santa Fe Salsa
Available in Greenhorn Mild and Bronc Buster Hot, 1 pint
Sunrise Syrup
Our Fresh Syrups are made with real fruit. Sunrise Syrup Choices: Sun Up Strawberry, Blackberry Delight, Mornin' Maple, Pure Country Apple Cinnamon
Available in 8oz sizes. Goes great with our Flap-Jack Mixes!