Registry & Gifting
Address
Rosewood Wine Cellar
1901 Lakin
Great Bend, KS, 67530
Phone
(620) 603-6410
Hours
Mon-Thurs 10a-6p
Fri & Sat 10a-8p
Closed Sunday

Bridal Registry
Future brides, take advantage of Rosewood Wine Cellar unique gifts and our wide selection of award-winning wine by registering your special day with us. We have exquisite bridal gifts, in addition to other unique gift items that are sure to match your wedding theme. Be sure to check out our selections of handcrafted wine that you will want to serve on your memorable day. We offer a 5% discount for wine purchased by the case and you can mix your cases to diversify the variety of wine served.
Wide Selection of Wedding Gifts Available
Free Wine Taste While You Shop!
Personalized Wine Labels
Multiple designs and color choices
Business Gifting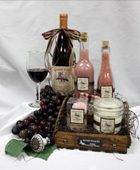 We make it easy for you to customize our gifts so they are unique to your business. Recognize clients, partners, employees and business prospects by customizing our products to match your business. We can arrange to have personalized gifts, boxes and baskets shipped in the United States. (Our wine can only be shipped in Kansas.)
Contact us to inquire about Registry or Gifting: 620-603-6410, info@rosewoodservices.com
Sign Up! – Are you interested in registering your wedding with us or learning more about Business Gifting? If so, please provide your contact info below. Your information will not be used for any other purpose.