Food Products Produced at Rosewood Ranch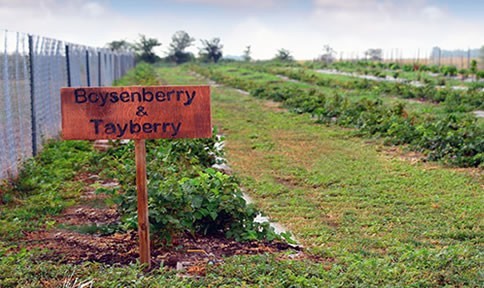 Address
Rosewood Ranch
Pawnee Rock, KS 67567
Phone
(620) 603-6502
Rosewood Ranch is renowned for its award-winning horse therapy program, but it also possesses other amazing facets which advance opportunities for people with developmental disabilities. This section covers those other areas of Rosewood Ranch that result in the creation of products. Many of those products are sold at Rosewood's two retail stores in downtown Great Bend.
Honey Bee Farm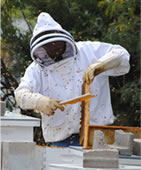 In a country setting at Rosewood Ranch, it's only natural that we operate a honey bee farm, too.
Our honey is harvested once annually and sold in its purest form as Pure Raw Honey at our two retail locations in downtown Great Bend – Rosewood Furniture Gallery and Rosewood Wine Cellar.
Pure Raw Honey contains natural antioxidants, enzymes, amino acids, vitamins, and minerals. Locally harvested honey has been shown to effectively help people who are fighting area allergens, as a form of immunotherapy.
We also use our honey as ingredients in Rosewood Creations products, like some of our jellies, soaps and other bath products.
Orchard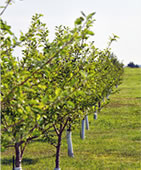 Our orchard is full of fruit-bearing trees, many of them apple trees. We have Red Delicious, Gold Rush, Honey Gold, Royal Empire, Myra Fuji, Galaxy Gala and Arkansas Black varieties.
We also have other fruit trees, comprising different varieties of Peach, Pear, Cherry, Nectarine, Apricot, and Plum.
Our client-employees are responsible for maintaining the orchard grounds, as well as harvesting the fruit. Much of the fruit is used in production by our client-employees at Rosewood Studio. Those products are sold at our two retail locations in downtown Great Bend.
Vineyard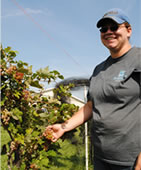 We maintain our own vineyard at Rosewood Ranch, where client employees help to plant, grow and harvest approximately four acres of grapes and other berries for use in Rosewood Creations products. Our client-employees also are responsible for maintaining the vineyard grounds.
At our vineyard, we grow White Concord, Merlot, Red Table, Geneva Red (GR-7), Catawba, and Traminette grapes. We also grow different varieties of blackberries and strawberries.
Besides making wine with our vineyard fruit, Rosewood utilizes its harvests to make jellies and other products at its Industrial Kitchen on north Washington in Great Bend.
Cattle and Beef Production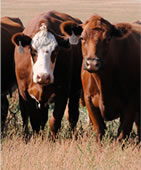 You can't get any better beef than all-natural, grass-fed beef raised on the Kansas prairie.
Rosewood Ranch has approximately 50 head of cattle, which about a dozen client-employees help to maintain through the year. The breed of cattle raised at Rosewood Ranch is a Simmental Red Angus mix, combining the superior qualities of the Simmental with Red Angus.
Our cattle are grass-fed on the rolling prairie at Rosewood Ranch.
We sell calves annually at the area sale barn. We also use Rosewood beef for our line of summer sausage and beef sticks, which are sold at the Rosewood Wine Cellar in downtown Great Bend. Our beef products are made with our Rosewood Creations recipes, consisting of unique blends of spices.
Products from Rosewood Ranch are sold at our retail outlet, Rosewood Wine Cellar!