Beverage Products

Enjoy our variety of tasty beverages, some include the use of our delicious wines. We have a wide selection of hot and cold beverage products for you to choose from. Be sure to check out our Wine List.
Cocoa
Stir a few spoonfuls of Campfire Cocoa into your favorite Cup-of-Joe for a rich, creamy flavor experience...
Black Cherry Pinot Noir, Raspberry Merlot, Santa Fe Trail Cabernet, Salted Caramel, Rich Truffle, Ol' Fashion Mint, Campfire S'more, Pumpkin Spice
Available in 4 & 9 oz sizes
Coffee
Sunrise: Light blend, notes of cocoa powder, raisin, and sweet lemon
High Noon: Medium blend, notes of bittersweet chocolate, tangerine, and roasted almonds
Sunset: Medium/dark blend, notes of bakers chocolate, black cherry, and sweet pipe tobacco
Full Moon: Dark blend
Sample, 1/2 lb, 1 lb sizes available
Gus's Wine Slush Mixes
Carbonated Soda and Rosewood Wine come together to add to the well known refreshing fun, however, Slush Mixes are enjoyed frozen!
Flavors include Berry Blue Zozzle, Strawberry and NEW in the Spring of 2019... Watermelon!
Gus's Cooler Mixes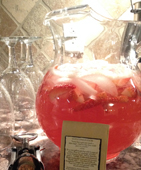 We have a Gus's mix for every season and every event. Liven up any occasion with a Gus's Cooler Mix, Carbonated Soda and Rosewood Wine. Makes 1 Gallon of Refreshing Fun.
Flavors include: Cowboy Cherry Cocktail, Irish Moonshine, Long-Rider Lemonade, Lucky Love Potion, Peach Prairie Dew, Sangria Punch, Strawberry Stampede
Tea
Loose Leaf Tea: Earl Gray, Sangria Fruit, GreenTea and Matcha, and Honey, Chamomile, & Vanilla Herbal in 1 oz. and 3 oz. cans
Powdered Tea: Green, Raspberry, and Peach in 12 oz. cans
Chai Tea: Cowboy Chai, Vanilla Chai Available in 4 oz.